Marketing automation
Software and modules for all marketing & sales circumstances

Sales is one of a company's core processes
– Time to take a more critical look.
If a company wants to be successful today and going forward, sales can't just be left to chance. There is still the belief that a good salesman in the field is the key to success. But is that all it takes? Just compare the situation with that in production. How would a good cutting machine operator be able to work today without machines, robots or assembly lines?
In short, what would production be without automation?
It is our belief that sales activities go through a sequence made up of several steps and the first thing to do, is to define this sales process. Once the process from lead generation, through lead qualification to customer acquisition and finally customer retention has been defined for your company, it is then easy to identify areas where the deployment of software or a special module can support this process.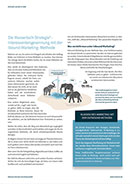 What has lead generation got to do with waterholes and elephants?
"… See to it that the route to the waterhole is easily accessible and level (accessibility and usability) and make sure that it has a pleasant ambience, e.g. through shady trees (design). …"
Read about it here in the one-pager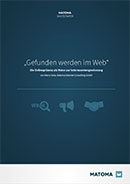 Online presence as the motor for lead generation
Down load our White paper here.
Request white paper
Because now in 2018 it is high time to take a fresh look at your sales approach. Field sales structures such as those that have been around since the 1970s and which still today are classified as "sales" in many places, cannot be the solution because strike rates and methodologies have had their day and don't bring any growth in productivity.
The upshot is that if increased turnover is the goal, the approach of many companies is simply to send more sales resources out into the field.
It is our firmly held opinion that the existing sales resources, both the internal and the external sales teams, need better software tools and need to be better integrated in the company's business processes.
MATOMA IS THE RIGHT CHOICE FOR YOU, IF …
… you don't hear phrases like "… benefits the brand" often enough
… you want to achieve 30% more turnover with the same team
… you want to take a fresh look at marketing
… you are looking for pragmatic, value-for-money approaches
… you want to acquire new customers